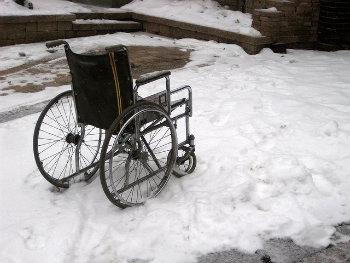 Note from Annie: Today's post is a guest post from Molly Clarke, and I think it'll offer some answers to questions a lot of Dolls have about Social Security Disability – enjoy!
Chronic Pain and Social Security Disability Benefits
When most people think of Social Security Disability (SSD) benefits, they imagine someone unable to work because of a serious physical disability – loss of motion, inability to walk, or life-threatening diseases. However, many individuals who need disability benefits have conditions that aren't necessarily visible to outsiders.
A common reason why people apply for disability benefits is because they suffer from chronic pain. If you can no longer work due to chronic pain, you may be eligible for SSD benefits. The following article will give you a brief overview of the benefits available to you and will provide you with the information needed to begin the process.
Disability Benefit Programs
The two different disability benefit programs—SSDI and SSI—are governed by the Social Security Administration. Each of these programs is very different and has separate eligibility requirements.
SSDI—Social Security Disability Insurance—is funded by taxes that workers pay into the system. Therefore, eligibility for SSDI is determined by an applicant's work history and the amount of Social Security taxes he or she has paid. Learn more about qualifying for SSDI here.
SSI, the second program that offers disability benefits, stands for Supplemental Security Income. SSI is offered to elderly and disabled individuals who earn very little income. SSI is a needs-based program and the SSA uses very strict financial regulations to determine an applicant's eligibility. SSI has no work history or tax related requirements. For this reason, SSI is the best option for children or young adults who haven't had the opportunity to pay into the system. Learn more about qualifying for SSI here.
Social Security Disability Blue Book Requirements
In addition to meeting the previously mentioned technical requirements, SSD applicants must also meet very specific medical criteria. These medical criteria can be found in the SSA's blue book—the official guide of potentially disabling conditions. The blue book lists many different disabilities and impairments. Under each listing are the specific medical requirements that an applicant must meet in order to qualify.
Unfortunately, chronic pain is not listed in the blue book. To qualify for disability benefits with chronic pain you must have a documented, "medically determinable" condition. Essentially this means that you must qualify based on the condition or illness that causes your chronic pain, rather than the symptom itself. Because chronic pain can be caused by a number of conditions, it is suggested that you go through the blue book listings and search for the condition that best matches your symptoms. This may include the following listings: neurological disorders, somatoform disorders, inflammatory bowel disease, back injury, chronic renal disease or inflammatory arthritis.
You can find all blue book listings on the SSA's website, here.
If your chronic pain is not caused by a listed impairment, you do have other options. If you can prove, using medical evidence that your symptoms make it impossible for you to maintain employment, you may be able to qualify under something called a Medical Vocational Allowance. To determine whether or not you qualify under a Medical Vocational Allowance the SSA will evaluate you to determine the location, frequency, intensity and duration of your pain, and how it affects your day-to-day life.
Social Security Compassionate Allowances
The processing time for an initial SSD application is often several months. The SSA realizes that individuals with severely disabling conditions may not be able to wait that long to receive benefits. For this reason, they allow people with inherently disabling conditions to qualify for benefits in as little as ten days. This is known as a compassionate allowance. View all conditions that qualify for compassionate allowance processing here.
Preparing for the Process
Prior to submitting your application for SSD benefits, it is important that you are thoroughly prepared. This includes collecting the necessary medical documentation to support your claim. Your application should include records of the following:
Your diagnosis
Hospitalizations and other medical appointments
Treatments and your response to them
Any lab tests or diagnostic images
Written statements from your doctors
Once you collect this information, it is also important to collect documentation of your finances and employment history. When you are ready to begin the process, you can complete your application online or in person at your local Social Security office.
It is important that you realize how difficult the application process may be. In fact, many initial applications are denied. If this happens to you, it is important that you don't give up. You are allowed to appeal this decision. Once you are awarded benefits, you will be able to focus on your health and wellbeing rather than stressing about your finances.
About the Guest Author:
Molly Clarke is the Social Media Coordinator for Social Security Disability Help and contributes regularly to the Social Security Disability Help blog. You can reach her via email at mac@ssd-help.org.
Photo credit: Kid Vincent via photopin cc