In this series of posts we're going to examine meditation in detail — what it is, how it helps, why it works, and how to do it.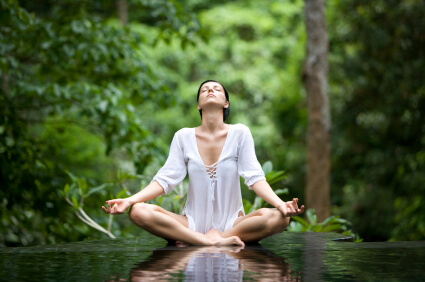 No, It's Not "All in Your Head" … But Quieting Your Mind Can Help
For a lot of us, any suggestion of remedy that even sniffs of "it's all in your head" is automatically suspect. For some of us, meditation falls into that category.
Look, I'm as anti-head-caser as anyone (being a fibromite, it comes with the territory) but I'm here to tell you: this meditation stuff works.
Let me make this point clear, though: I'm no guru. I hate the word and think it's overused both as an honorific and as a criticism. What I am is someone who's tried a lot of coping mechanisms and treatment options – someone with a pretty clear understanding of which of those options worked for me and which didn't.
I've also done a fair bit of (OK, extensive) study on the subject, and while there's absolutely no treatment for chronic pain that will work across the board — even for a particular illness — it seems that more and more evidence is piling up that meditation works. Specifically, it helps someone in pain cope with the pain by removing the suffering component. For me, it also goes beyond that and actually helps reduce the pain.
The Difference Between Pain and Suffering
First, we need to establish what we mean when we say "pain" and "suffering." Interestingly tidbit: I used to be a lawyer, as most readers know. In preparing a complaint (the document that starts a lawsuit) for personal injury, lawyers will frequently use the phrase "pain and suffering." Some of us in first-year torts class in law school wondered why use both? We chalked it up to typical lawyer-speak.
Fact is, though, they aren't the same thing at all. The lawyers were right!
Pain is the unpleasant sensory perception we're all too familiar with. It's the biochemical response to certain stimuli — or, in our cases, the mere state of being alive with a chronic pain condition.
Suffering , however, is something very different. While pain is a physical phenomenon, suffering is entirely emotional and mental. It does, in fact, lie completely in your mind. Suffering, put simply, is the emotional resistance to the pain that we throw up, consciously or subconsciously, and it's usually based on fear or anger, or both.
Suffering is what makes us think:
Why me?!
This will NEVER go away.
I'll feel like this until the day I die.
What the hell is WRONG with me?!
OhGodohGodohGodohGod…
You get the drift.
There's one more key difference: pain is a fact of life for the chronically pained. Suffering, however, is completely optional.
The Impact of Meditation on Suffering
Meditation works to relieve the suffering component of the chronic pain experience in several ways.
It quiets the mind.
It brings you out of the future-based fear you're experiencing and grounds you back in the present.
It reduces the physical stress caused by the experience of pain.
It steadies and slows your breathing, which further reduces physical stress.
It fosters a stronger sense of well-being.
It moves you gently out of the "freak-out" mode into a more objective perspective.
It improves your mood.
Why There's No Contradiction Between Meditation's Effectiveness and the Biological Reality of Chronic Pain
So, this is the part of the post where I tell you why those jerks who insist that it's all in your mind are still bone-crushingly wrong and meditation works, anyway, and these two things are not the contradiction that they might appear to be initially.
Let's say it again, just to make it clear: it is not all in your head . But meditation can help you reduce the suffering that accompanies your pain. And that can make it all just a little bit easier to bear.
This is true because — again — there's a difference between pain and suffering. Pain is the biological response; suffering is the entirely emotional/mental response that accompanies the pain.
In future posts, we'll look at how to start a meditating practice for chronic pain relief.