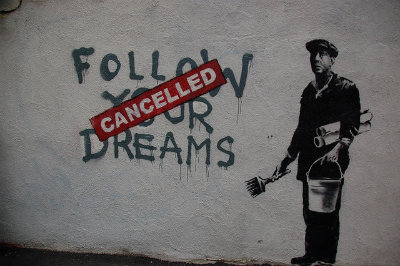 Back at the beginning of this year, I came clean with this site's readers.
I confessed that I felt bored writing about pain.
That I was feeling a good bit of resistance to the label of "chronically pained" – a label I've been living with for over 10 years now.
That the combination of these rather complex emotions was behind my absence from this site for several months.
I wrote another post after that one about the external life stressors that also kept me away from the blog.
And then I didn't write another post for this site until this past Sunday – six months later.
Something about the road to hell and paving stones made out of good intentions…?
Anyhoo. That's a post for another time.
What I didn't 'fess up to back in January – and couldn't have, anyway, because frankly it didn't even really register with me consciously until a few weeks ago – was a deeper, darker thought that was probably behind all that boredom and resistance.
It's such a dark thought that even now, after becoming aware of it, I don't really want to write it.
But like a reluctant witness in a mafia trial, I swore to tell the truth in my writings here, so – with a not-insignificant dose of trepidation – I'll come clean(er) now:
I feel like a fraud.
There. I said it.
Scones, anyone?
What?
Oh, ALL RIGHT.
I feel like a fraud because this site's tagline promises that you can thrive – not just survive – with chronic pain.
Yet for the last several years, all I've been doing is surviving. And not just surviving – barely surviving.
To be fair, for the first few years after the Cat-5 shitstorm made landfall in my life, all I could do was concentrate on survival issues – reflected in the plaintive, slightly panicked tone in this post, for instance.
But for the last two years, survival has been slightly more assured. We have our own digs for the first time in a long time, and even without the Section 8 benefits that should have started for us back in February (thanks EVER so much, Republicans), I've been able to make enough money on my own to cover the rent and associated bills.
It occurs to me now that what I was feeling back then about the time of the "The Truth Hurts" post, and for the intervening years between then and now, was a heightened form of acceptance.
In truth, it was more like resignation.
I was resigned to surviving, and resigned to not thriving.
Which made this whole site – or at least, my continued publication of its articles – a fraud, in my view.
My days are like carbon copies of each other. I wear yoga pants – I sleep in yoga pants – and shuffle around in pink fuzzy slippers with grosgrain ribbons and sparkly crystals that my daughter gave me last Christmas. My ass is planted so firmly on the couch that it's permanently taken said ass's shape. I work. I write. I make dinner. I spend a half-hour talking with my daughter. I go to bed. In between, I take medication to stave off the worst of the pain. I hurt in between doses, but for the most part, it's manageable.
It's … acceptable.
It's tolerable.
And I think it's killing me.
So, now that I know that's what's been going on for the last few years – that somehow I've become resigned to merely coping with my pain – I have a few options. As far as I can tell, actually, I have three:
Change this site's tagline to "coping with chronic pain." This option leaves me cold and thoroughly uninspired.
Change the way this site gets updated. Stop writing for this site completely. Let other people take it over (people who haven't lost hope) or just let the thing die altogether.
Change my life.
Something's got to change, one way or another. And I don't know what, and I don't know how. I have loosely formed clouds of ideas – malleable cotton puffs that twist and shift just as soon as I start to examine them closely. I have very few answers. I do have questions – but not all the questions.
But I do know that when I contemplate living the rest of my life in this sad state of resigned nothingness, I feel incredibly sad.
And that feels unnatural to me.
So: Something's gotta give.
Photo Credit : Chris Devers via photopin cc