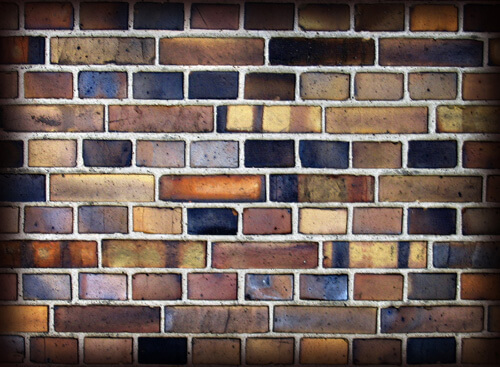 Harsh words in that headline, and I mean every single one of them.
Here's what happened: Last week, my housing plans fell through. I'd been staying with an acquaintance, which was always a temporary solution and the plan was that my daughter and I would be moving in with another friend and her family, to share expenses. Then friend's house had a temper tantrum, losing both its air conditioning and the downstairs plumbing in the space of 48 hours.
So I had to scramble to find something else. I'd had a back-up plan but in the comedy of errors that is my life, that also imploded hilariously, leaving me with about one week in which to find a place to live.
So, with the aid of a friend and Craigslist, I set about scrambling for Plan C. Thankfully, I now have Plans C AND D, and that's pretty awesome to have options — nothing firm yet, but we'll know tomorrow, almost surely by Tuesday at the latest.
OK, crisis averted. But the thing that struck me like a ton of bricks late Friday night, after five full days of escalating efforts and exponentially skyrocketing stress levels, was summed up in this Facebook status update: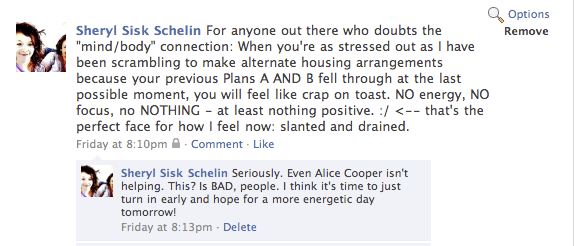 Something Alice Cooper can't cure? That's new …
In all seriousness, this feeling — as if someone tilted me over and let everything run right out into the ground — was totally new to me, despite ten-plus years of living with fibromyalgia and degenerative disk disease.
See, I've always been a very optimistic person. And the best thing about that kind of optimism, the kind that's bred into your bones, is that it provides its own energy source. Even in the worst of times, the certain conviction that things will get better keeps me going.
But not this time. I hit the wall. I couldn't move. I couldn't think. I couldn't even write, which has always been my best form of therapy.
I didn't know what to do. So I went to bed. (And then promptly stayed awake for four more hours while the current housemates sang Venetian folk songs and argued about who was "right from the beginning." Sigh.)
The next day, I felt much better. So we can assume fairly safely that if you hit this stress-induced wall, sleep helps.
What else makes it better? I honestly don't know. I've never felt that way before so it's a completely new experience. So I'm asking you all — have you ever experienced The Wall? What helped, if anything? What doesn't work? Let's share our collective wisdom!